---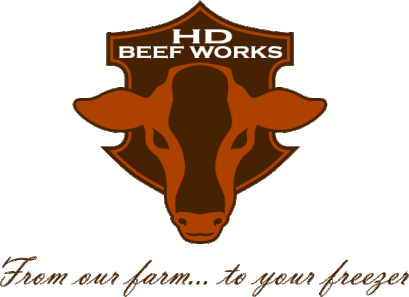 100% GRASS FED AND FINISHED

---
Now accepting deposits for chicken.
---
What's the Latest


American Grassfed Association Certified!
We completed the rigorous certification process and were approved this summer.
The AGA Grassfed Standards concentrate on 4 areas of production: diet, confinement, antibiotics or hormones, and origin.
​We are audited each year by independent, third-parties to ensure ongoing compliance. To find out more about this process, visit
American Grassfed
.
View our
certificate
.
​
---
---

Check us out at The Tavern in Northfield.

1/2# Grass-Fed Burger
Local grass fed beef raised just outside the city of Northfield by HD Beefworks. This beef is GMO free and all natural.
​Grilled to your liking and served with your choice of cheese.
---
---
---
It's a Matter of Health

HD Beef Works' grass-fed beef is raised on a family farm, without any feed additives, and processed locally, making them healthier from start to finish.

Grass-fed beef is known to be lower in calories, and contain healthier levels of two very important substances: conjugated linoleic acid and Omega-3 fatty acid. While that may not seem exciting to you, dieticians and physicians are thrilled at what they do for your health.





It's a Matter of Time

You may be surprised to learn that livestock, originally requiring years of natural pasture feeding to be considered market-ready, are now being commercially "produced" in mere months. They're being given additives, fillers, growth hormones and antibiotics to promote faster growth—giving new meaning to the term "fast food."

Now most of us wouldn't accept the idea of creating a great wine product that way. And, truth be told, there's no substitute for time in raising high-quality livestock for food. HD Beef Works livestock feed on grasses until they're ready—naturally. Freedom to feed and move about on pasture makes for healthier animals—and better food products.



It's a Matter of Taste

"Eat it—it's good for you." You likely recall having heard these words a time or two. Most of us interpreted that phrase to mean that if it was good for you, it must not taste good.

And, in addition to being healthier for you, HD Beef Works' grass-fed beef really does taste better.

But why? Because when food is produced without additives and fillers, the true flavor comes through—and it's simply more satisfying to the palate.


---